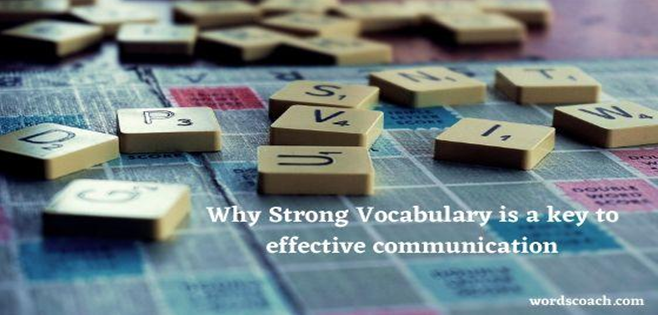 Superheroes would be useless without their powers. Much the same as that the English language would also be not fruitful without grammar, vocabulary, punctuations, phonology, etc. Superheroes can win a battle with the appropriate use of their powers. Similarly, good learners can pull the various fields at the right time to make proficiency in the language. English is a prosperous language in terms of vocabulary, containing more synonyms than any other language. In addition, vocabulary plays a prime role in effective communication. In today's world, communication is key for sharing your ideas, feelings, views, facts, etc. It's pretty discernible that a larger vocabulary can help to advance your communication, and allows us to choose words with greater precision.
Loving your language means a command of its vocabulary beyond the level of the everyday -John McWhorter
What researchers say about vocabulary?
Dr. Catherine Tamis-LeMonda of New York University and Dr. Marc Borstein of the National Institutes of Health have performed research on vocabulary development in a different way. They analyzed maternal responsiveness in children who all originated from proficient families, with intriguing outcomes. The investigation found that the average child spoke his or her first words by 13 months and by 18 months had a vocabulary of about 50 words. Certainly, moms who were viewed as high responders—that is, they reacted to their kid's discourse rapidly and frequently—had kids who were unmistakably a half year in front of the kids whose moms were low responders. Therefore, vocabulary is a strong indicator of children's success as well.
Simply by changing your habitual vocabulary, you can instantaneously change how you think, how you feel, and how you live -Tony Robbins

Top 5 reasons why vocabulary is crucial for powerful communication:
1. Convey your ideas:
Using apt words while communicating with others, makes you a more plausible communicator. For example, people more often habitually use "very" words in their speech to express the intensity of emotion- "I am very happy today". It's not very effective in terms of impactful speaking. Instead, you can use right degree words such as cheerful, delighted, ecstatic, overjoyed, contented, elated, etc. That's the potential of a strong vocabulary!
2. To prompt others:
Being it professional life or personal life, it's the power of words that will help to get things done in your way. For instance, you are the manager of any company. You have to have a superlative impression on others to make optimization of your team members. Your argument should be perspicuous and logical. This way you can persuade others and present yourself in front of others one step ahead.


3. To comprehend better:
Immense knowledge of vocabulary can help you understand the news articles, current events more constructively. It will also enhance your ability to participate in meaningful global dialogue and become more informed as well as involved.
4. To write adroitly:
Rich vocabulary enables your writing skills admirably. If you are a student then you may come across writing your admission SOPs in which how you represent your character in an ingenious way in the sight of the jury matters the most. No matter what your profession is with your decent writing skills, you can share knowledge with others.
5. To expand the level of credence:
In today's era, communication is the key to success. If you are able to present yourself in front of people credibly then you are good to go. No one can stop from doing anything. And being proficient in vocabulary boosts your confidence to speak in front of people.


How to get command of vocabulary?
More reading would be very supportive to expand your knowledge of vocabulary. Make a hobby to read a novel of your interest. It will significantly increase your vocabulary.
Try to learn words in context. Connect the meaning of words with something you can easily remember with.
Interact with people in different segments. In this way, you learn from others. You may experience something different.
Frequently utilize those words you have learned. Thereby, you won't forget those new words.
Make learning enjoyable through playing games like scrabble and other educational apps. Words Coach can also help to enrich your vocabulary by downloading our app from the website. We provide 10 arduous words on a daily basis. Additionally, come up with the synonyms, antonyms, and how to use them in a sentence. Hence, it will be easier for you to remember those words.
We use the vocabulary of light to describe a spiritual experience -James Turrell
To put it in a nutshell, it's not just the size of your vocabulary that is significant; it's the way where you utilize your words. An enormous vocabulary shouldn't be utilized for flaunting. Or maybe, it ought to be utilized to grow your thinking and flourish as an individual.
Hope it helps!! Happy Learning
Written by,
Jaini Bhavsar (There's always room for bliss.)
31st May 2020
Connect with me on LinkedIn

Read More